My Daddy was just looking at my blog, and said did you know you haven't posted since December 31st?
He couldn't believe it..hehe
So now here I am, catching up...Let's see what's happened since last I posted?
A New Year...Can ya'll believe it's 2010???I hate coming into a new year, and writing the date down, I'm still writing 09'...I'll miss it...My Granny turned 81, Happy Birthday Granny!!!!! We celebrated at Olive Garden last night, after driving all day and attending a friend's wedding... I was pretty tired~
The Wedding was beautiful, it was so encouraging to see a Godly Couple who had saved their first kiss, and kept their selves pure for each other. Finally reach the exciting Wedding day!!! I wish I had took pictures, but sadly I forgot my camera:(
Let's see, today I had Children's church and decided to take some pictures... The kid's were very good today! Even one of the bigger boys, that usaully get's in trouble was perfect today...Mama told him after church that he was really good, and he said he was trying to do better..hehe Praise the Lord!
We played a fun game that all the kid's really liked, I posted some video's of the kids trying to play...the boys weren't as good as the girls..hehe
Tonight we had such a sweet service, several people gave testimony of how God had blessed them, Daddy preached on for the Cause of Christ and how everything we were gonna do this year in our Church was going to be for the Cause of Christ!
The Fundamental Three Sang tonight, our favorite song!!!! One Thing I Know...Katie took my camera and recorded us singing, it may not sound the best in the world, and we were kinda worried at the begining because we didn't have the words and we were afraid we had forgotten them~ But the Lord blessed.
Well I suppose I've caught ya'll up-to-date with everything, Have a Good Week!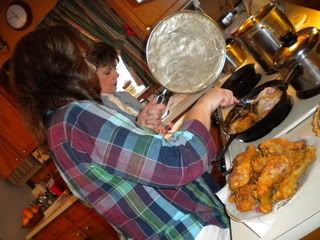 Mama Frying the Chicken
Daddy and my Uncle Pete waiting to eat..
Molly handcuffing Bethany..
We love old Jimmy Stuart Movies!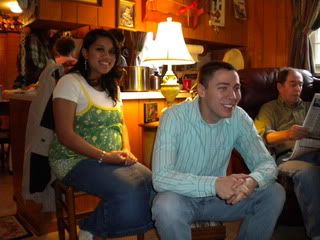 Rachael and Donnie
Time to play UNO Attack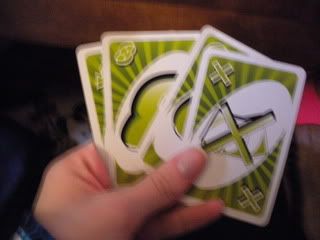 If only someone would change the color to green!!!!!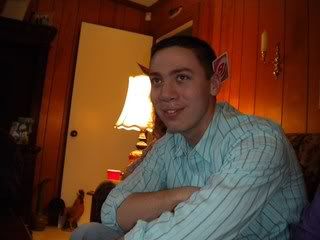 Donnie got tired of holding his cards
Katie acting crazy...I just can't help but laugh when I see this one~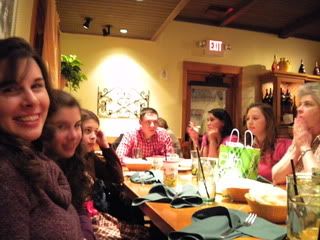 Everyone at Olive Garden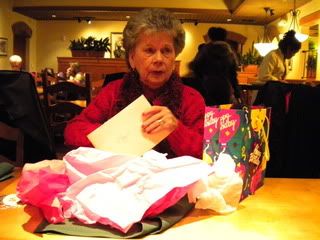 Granny opening her presents
Blowing out her candles
Tyler won one of the quiet seat prizes!!!!
So did Katlyn!!!!
Mama taught about the little boy who gave his lunch, she used bread and sardenes to illustrate...we dared the kids to try them, Molly and Logan were the only brave ones!!!
Click here to watch the kids play the game...
http://s637.photobucket.com/albums/uu92/jenniferleetaylor/?action=view&current=mycamera20102-1.flv
http://s637.photobucket.com/albums/uu92/jenniferleetaylor/?action=view&current=mycamera20103-1.flv
http://s637.photobucket.com/albums/uu92/jenniferleetaylor/?action=view&current=mycamera20104-1.flv
Craziness on the Van...
and I'll post the video of us singing tomorrow...it's late~